CURRENT CASE - ANAND KUMAR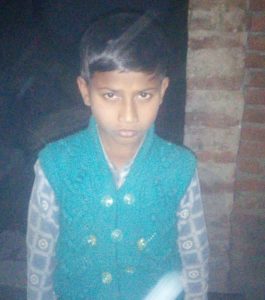 Anand Kumar's Request
Help Us To Heal The Little Heart!
Child heart surgery in India is not affordable to all. It is estimated that over 250,000 children born in India each year with heart disease and less than 5% of them receive the care that they need. Most of these children succumb to the disease without celebrating even their first birthday.
Look For Child Foundation is working with and for children born with heart diseases. 10 years old Anand Kumar, living in Gorakhpur with his parents and two siblings is diagnosed with blockage in his heart, this is affecting the functioning of his heart adversely, which if not treated properly on time may lead to heart failure. The cost of the treatment is very high it's about Rs.90,000 his father work as a labourer in a farm and barely manage to earn Rs.200 or 250 daily, hence, can't bear the treatment expenses.As the family was running from pillar to post for help and were running out of hope, they got in touch with the Look For Child Foundation NGO for financial help and medical assistance. Look For Child Foundation got Anand admitted to AIIMS Hospital, Delhi. But, now  Rs.90,000 are required for his treatment and well-being it's a humble request from each one of you to donate as much as possible to save this little life, be a healer to this little heart we would be really thankful for all your generous support and donations
We request you to donate for his treatment. So that this little boy can live his life happily. And become a beautiful individual. Your support and help is urgently required.
 Look For Child Foundation 
    Medical Documents of Anand Kumar